Towing and Roadside Services
Having to call a tow truck in Jefferson County, TN isn't a pleasant experience—it usually means your vehicle is broken down and that you're left wondering what to do next. Norton's Towing is here to make your situation a little less frustrating, providing you with quick, reliable towing services. We can't stop auto issues from happening, but we can help you resolve them quicker!
Towing Services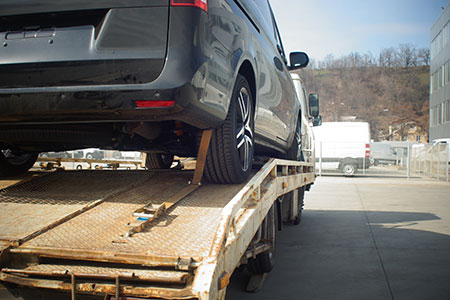 As the most experienced wrecker in Jefferson County, TN, we're able to tow just about any moving vehicle! Moreover, we work fast to make sure we arrive quickly and haul your vehicle away as soon as possible. We're pleased to serve all of Jefferson County, TN and the surrounding area cities and towns, and we'll travel as far as you need us to when it comes to assisting you!
Cars
Trucks
SUVs
Motorcycles
Trailers
Roadside Services
Sometimes, problems with your vehicle can be resolved right on the side of the road, to get you back towards your destination with minimal setback. Norton's Towing is prepared to offer you a range of roadside services, depending on your situation:
Tire Changes: Potholes and road debris can cause your tires to blow out or rapidly lose air pressure, inevitably stranding you on the side of the road. If you're not confident in your ability to put on a spare tire or don't have the equipment to get it done, give us a call! We'll get that tire changed out quickly and have you back on the road safely in no time at all.
Lockouts: Locked your keys in your cabin? Don't try to break into your own vehicle or damage your locks trying to pry them open! Instead, give us a call and we'll get your lock popped in no time. We're proficient with all types of locksets and will help you get things open again without damaging your vehicle.
Jumpstarts: If you've accidentally left your lights on too long or your vehicle's battery is drained, we're on hand to give you a jump. Even on the coldest winter days, we'll gladly give you a jump to get you back out on the road with confidence.
Gas: If your fuel gauge ticks down to "empty" without you noticing and you're left stranded without gas in the tank, be sure and give us a call. We'll bring you a couple extra gallons of gas to get you to the next fueling station and beyond.
Trailer Tractor Roadside Assistance: When it comes to service, none can match our ability. Norton's Towing has the equipment and expertise to handle general maintenance as well as difficult diagnostic repairs. Count on us to get the job done right the first time!
Diesal Diagnostics & Repairs: We are your one stop shop for diesel pickup truck repair. We can service & maintain your truck to keep it going for the long haul, take care of all the repairs minor or major along the way.
For more information about any of our towing or roadside service capabilities, get in touch with us today by calling 865-397-0905. We'll get to you quickly and provide the solutions you need!